The volume of people visiting Red Rock Canyon caught us by surprise.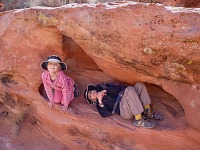 Sandstone is as if made for children's games.
Mildly, but only very mildly, we had hoped that on our way out we would collided with Rýzls — perhaps in Tehachapi for dinner. But when Míša wrote me sometime around 9 a.m. that they were taking off, and by that time we were still sitting around having breakfast in our pajamas, it started to be obvious we were being somewhat less dynamic than they. We could afford it — while they had planned to reach Barstow and continue on a Christmas trip to Grand Canyon and to Utah, we were resolved to trundle along a much less demanding route, with our first destination only Tehachapi.
There, we had a dinner at Blue Ginger, overnighted in our favorite Best Western, and in the morning headed to hobbits in Henderson, Nevada. This time the Interstate 15 was an nerve-wrecking thing; there are spots where it narrows to two lanes and clogs up hopelessly, as everybody pushes into the left lane to pass big trucks. For the holidays, half of L.A. must go to Vegas, plus many more people who simply cannot imagine experiencing a New Year anywhere else than in a casino. We simply added ourselves to this horde, only we had something better coming than a casino. Michelle had baked a Czech Christmas cake, Hilda prepared creamed chicken with DUMPLINGS, which we normally avoid on account of being difficult to make, and we were up for a real treat. Alas, since we had announced ourselves at the last moment, Ríša could not swap his shifts and had to leave in the evening for work. Still we managed to take a walk together and sit down and have one or two beers — and it was suddenly midnight and we had to stumble to bed.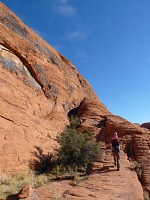 It's not listed in the guide book, but people obviously climb here.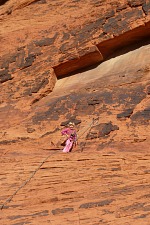 Lisa poses victoriously on a ledge.
We talked Richard and Michelle to join us in visiting
Red Rock Canyon
, which they have a stone's throw from their house. It's one of the very few national parks that WE HAVE NOT BEEN TO BEFORE, although it's right on our route — but we always hurry to Zion or somewhere else far, and there's never time. Richard expressed a wish to see how one climbs and so, despite not having planned for it (I was hoping to cowardly check out the terrain first), I packed climbing gear.
And then a situation ensued, which led to us coming out as total idiots, although it did not look like it from the start. Richard was driving with Michelle in their car. We reckoned that we would most likely not be able to follow them along the way to the park, and we
providently
agreed to meet "past the entrance fee booths". We don't know the park and obviously we had imagined each something else. I was envisioning a parking lot with port-a-potties, as I know them at the entrance to Yosemite, Sid was expecting to meet at the
First Pullout
, i.e. the first parking lot from which one can hike to some attraction, and Ríša with Michelle ended up (as we found later) on a first turn-off past the gate, i.e. at a visitor center.
The problem was, the whole park is a single, one-way loop, thirteen miles long (plus some three or five more miles on a state highway between the exit and entrance), and in the moment we passed the visitor center turn-off in the direction of the first pull-out according to Sid, there was no turning back to the center — we would have to spend about an hour crawling at a walking pace on a one-way road, leave and then re-enter the park. We were still thinking about it as a nuisance, for we all have cell phones, don't we? Yet at Red Rocks, there were countless people there and although there was a signal, we never got a real connection (neither Ríša calling us, nor we calling him). Simply a real crazy situation.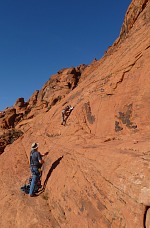 Everybody climbed the tourist slope.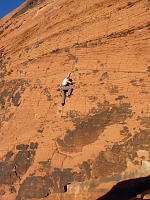 They also have more difficult routes for mom.
For about half hour we hung around the parking lot, hoping in vain that Ríša would show up. Then we had left a note behind our bus's windshield about where we were going, just in case Ríša would be able to recognize our car among the hundreds parking here, and notice the note. And then, out of options, we set out among the rocks, to see if we could find a previously selected area with some easy climbing routes — Panty Wall. For the first time we could savor the bliss of getting lost in Red Rock. Many sections are accessible by simply walking on the rock itself, trails or even markings are a pure fiction. And so we headed to Panty Wall on an approximate bearing (we could see it from the parking lot), trying to not lose our tracks in a complex of dry gulches full of bushes and small trees. We would possibly have reached Panty Wall eventually, but on our way there we found ourselves under a very pleasant looking wall, where two chaps with London accent were just packing their gear, and who briskly recited ratings of all visible routes and wished us good climbing. Given the fact that (unlike at totally overwhelmed Panty Wall) only two other couples were present here, looking like they'd be finished soon, we decided to stay in this uncharted area (i.e. neither one of my guidebooks borrowed from Rob mentioned it).
First I led something that was supposed to be easy, allegedly 5.7. According to
Mountain Project
it looks like
The Play's the Thing (5.5)
, which would correspond to my feeling (a tourist path). And the fact that both kids and Hippo were able to climb it. Then, according to the Brits, there were supposed to be two 5.8's (MJ says 5.7), but those were occupied, and so I climbed, as recommended by other people here, a 5.9
Sea of Troubles
. It was certainly worth it, but I think it's obvious how I lack experience with outdoor climbing. I'm more afraid, getting jittery even in an easy route, I'm afraid of small holds, etc. And naturally, the hard sandstone of Red Rock is a great change from Yosemite granite or Pinnacles rhyolite, where I have been climbing lately.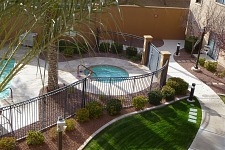 The children were granted a wish to swim in an outdoor pool in December.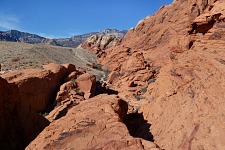 Two-tone hills at Red Rock Canyon.
Nobody else from our family wanted to climb the Sea of Troubles after me, but
Sweets to the Sweets (5.7)
became available, and I continued there. Meanwhile Hippo engaged in a discussion with a couple who tossed their rope from Sweets to the Sweets to
When the Blood Burns (5.10a)
, which can be only done top-rope, and he arranged that they would leave the rope there for me, and I could quickly try this harder route. I offered them to collect their gear from the top and rappel, and everybody was happy.
We reached our car in the last rays of sunshine; before we crawled in a line of cars to the end of the one-way loop, it was completely dark. On the edge of town (Las Vegas) we dropped in the first hotel we spotted that WAS NOT a casino as well; we learned while checking in that the nearest Thai restaurant could be found across the street, a merciful happenstance. I also finally managed to call Richard and as much as possible apologize for the morning confusion (a very much different question is, would the hobbits ever invite us again, and would they ever agree to join us on any excursion out of their den?). After an excellent dinner the kids rejoiced back at the hotel, for they had a hot tub and a swimming pool, and we had to go. Well, after all, who would not take advantage of relaxing in a pool under palm trees?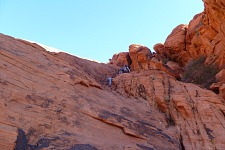 Improvisation on this hike turned into climbing.
Lisa watching the sky.
The pool was such a success, the juniors demanded to splash even in the morning next day, before we checked out of the hotel. Hippo surprised me by suggesting to spend at least part of the day again at Red Rock Canyon. We chose to move on to the second parking lot and check out local climbing opportunities. A couple of the day before had recommended a section called Magic Bus, and so I loaded a backpack with gear, Hippo carried another with snacks, and we proceeded to scramble on the rocks. The guidebook defined the path to Magic Bus thus: scramble up a fifty-yard ravine along a pronounced edge — without specifying whether to take the LEFT or the RIGHT side of the edge. Then it said that if we find scrambling becoming hard climbing, it's a sign we had taken the WRONG WAY. In a extensive rocky maze, it's an excellent advice. When I pulled the children through yet another not-quite-safe corner, while Magic Bus kept eluding us behind yet another rocky ridge, which gave the impression that we would need to jump and do some level-three climbing, I admitted defeat and ordered retreat. Kids do enjoy free scrambling and semi-climbing on the rocks, but the idea of continuing on, perhaps through an easier stretch, but now with a hundred fifty feet of drop-off under their butts, did not help my digestion.
We backed up a bit, had a snack near some rocky pools, and let the kids run in a dry, sandy creek bed. Then I put my backpack back on (instead of climbing, I had an full-gear exercise :-)), and we hurried back to the car. We wanted to reach Lone Pine in the evening, and had about five hours to drive. Last time we took the Death Valley route; this time we chose to follow a guidebook, which says that if you prefer speed over sightseeing, it's faster (not shorter) to avoid Death Valley, although it looks like a complete nonsense on a map.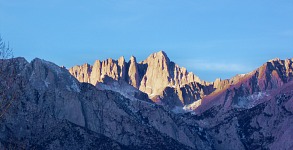 Sunrise with Mt. Whitney.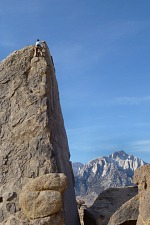 I got it — a picture of me climbing Shark's Fin with Sierra Nevada in the background!
We got to
Lone Pine
just for dinner, for which we chose a local Chinese. We rushed to the hotel and I managed to make an appointment with Rob, who had been climbing on ice somewhere near Lee Vining, that he would pick me up in front of our hotel at nine the next day, and we would go climbing
Alabama Hills
. My family was unanimous in declaring that they had been enough to the rocks already, and seen Alabama Hills the other day, and they'd rather visit the local Movie Museum, which we never found time for before.
Rob really arrived just in the moment I was walking out with my backpack, and we met Steve in a cafe a few blocks down the road; soon we huddled in our dawn jackets under Shark's Fin. Steve said that since Rob had never before climbed in Alabama Hills, he simply MUST do this outstanding rock. I went up
East Face
5.7 as well, even just to finally have this typical snapshot with Sierra Nevada in the background. I have to praise Steve — he obviously knows where to stand to frame the picture with everything in it.
The guys then voted for Hoodgie Wall. I know that one myself, and we climbed Leonosphere and Ankles Away. I top-roped Ankles; the memory of my fright there is still vivid — and of course this time it seemed easy, and neither Rob nor Steve made any faces. Perhaps because Alabama Hills were full of people and all routes covered in chalk, you could SEE where to reach — apparently I had climbed Ankles Away the wrong way before. From top of Ankles I spotted our white bus on the other side, and thus we got reunited with the rest of my family. We had yet another half hour to our planned moment of departure to Kirkwood, and I took advantage of it on Mon Cherie 5.9. In one spot I had to sit back in the end — a lack of motivation and experience with outdoor climbing is simply showing.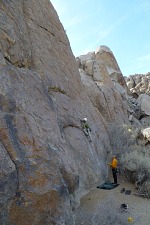 Rob climbing, Steve belaying — my buddies at half-day climbing away from family.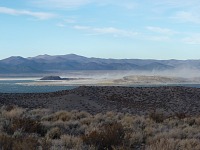 A crazy wind was blowing over Mono Lake.
We stopped in a Bishop grocery store to replenish our
Kirkwood
rations. We thoughts we would stop for a picnic lunch at Mono Lake, but a crazy wind was blowing there, one could not stay out of the car. Since the first November storm, not a single drop fell here (or snowflake in mountains), we were able to reach our "cottage" over the Monitor Pass shortcut. A surprise awaited us there: the light was on. Martin, Bára, Rumiko and Bryce had gotten there before us, although Martin claimed before Christmas that if there's no snow, they would drive on Saturday. The kids were glad to have a friend, and it was really hard to get them all in their sleeping bags, but it eventually happened and we could all go to bed.
In the morning it took a while to get them all dressed, dispense skis and poles and helmets and goggles, but fortunately we had a strong adult power play (five adults on three children), and so we coped. Even skiing was great, we could keep taking turns with the kids and on more difficult terrain, split the kids sometimes (after all Bryce has been skiing for the third time in his life and needed to learn a bit other things than our children, who had skied a whole last season). When it was my turn to take care of all the juniors, it was clear after the first chaotic run that it was not going to work this way, and I explained the game of playing train. Tom would go first, making careful turns, and Bryce with Lisa would copy him. This way I partially defused Tom's tendency to go straight downhill, and Bryce's tendency to run races with him, and a problem with Lisa who could not keep up, for she's too afraid to go straight down, and instead slides at a walking pace. The train game became, amazingly, quite popular with the kids, at least for a part of the day. Then we took them out to a harder slope and tried to slow Tom down and speed Lisa up.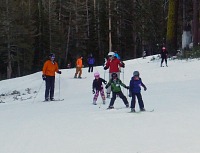 Kids playing train. (photo Rumiko)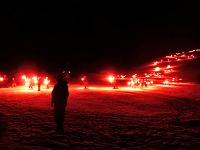 Torch parade. (photo Rumiko)
Then in the afternoon all the juniors faded considerably and were quite willing to lay about watching a movie, unlike on the previous day, when they roared and caused mischief. We had a light dinner and then we dressed up warmly; we were going to watch a downhill parade with torches, and fireworks. The torches were a cause of one unexpected show — a few of the light-bearers, instead of first extinguishing their fires in the snow and THEN tossing them into a metal barrel, simply dropped those lit torches in. I have never seen sheet metal heated up so much you can see through.
Kirkwood organizes
New Year's Eve Celebrations
humanely: around seven o'clock in the evening, and by seven thirty we were stuffing the kids into their beds and could start celebrating adult-style. Rumiko cooked shabu-shabu (a soup with vegetables and mushrooms and tofu in which you dip thin slices of raw meat, which thus gets cooked; then one or two kinds of Japanese sauces are added on a plate), Bára played on a guitar, we mostly sang along, and then we ran out of tonic water (needed to mix with Fernet). Hippo and I ventured out to see if any of the (two) local bars would sell us some. Alas, both bars had only fountain tonic, but eventually one bartender at the lodge remembered a forgotten bottle, thus saving our evening.
We hit the sleeping bags sometimes toward two in the morning. Rumiko had exhibited great personal courage, for she had not only tolerated our CZECH cacophonous singing, but also survived our attempts to translate Mládek's songs into English. During the night I had to deal with Tom, who fell off his bed. I don't know how he managed to obtain a bruise across his left eyebrow — fortunately only a shallow one, did not even get a black eye. Still it got us thinking about the arrangement in the bedroom and subsequently solved it by moving the bed from the middle to the corner. The advantage is that kids have fewer chances to fall off, and the bedroom can accommodate one more mattress, and therefor more people. We finished this re-arranging with Hippo after Sunday skiing.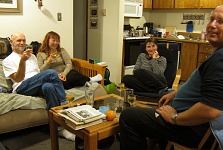 Before a toast. (photo Bára)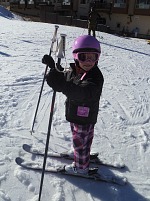 Lisa longs for poles very much.
On Sunday we again took turns in accompanying the kids and Rumiko, skiing on an icy black diamond run. Hippo managed to finally explain to Lisa that she does not have to keep skiing in a plough, but it's actually good to pick up speed. For her demonstrated skills he promised her poles, which seemed to be a strong motivation. We got the kids together for a while; Bryce still used a "kamikaze", simply rushing down the slope at maximum speed until he crashes — it was quite visible that our kids had the advantage of one extra season behind them. Toward the end Bryce threw an incredible somersault, and he was glad to go back to the "cottage"; our kids had one more run, but honestly it was no use, tiredness was showing.
Martin, Bára, Rumiko and Bryce had to leave on Sunday night; we could stay till Monday. We had first thought that we'd be skiing, but Lisa began to cough nastily, I was feeling kind of sick, and so we just packed everything in the morning, cleaned up, and set out slowly toward home. Hippo and I agreed that it was rather pleasant to stay this one more day out on our own, without delivering athletic performances. It's simply the "cottage" burning wood in a fireplace and sleeping in the sleeping bags.